Question:What is your memorable birthday experience and How did you celebrate it?
Answer: My memorable birthday experience is my 18th birthday. We celebrated it at home. It is not as luxurious compared to the usual debut but it was remarkable because I truly felt the presence of my whole family, friends and loved ones. When I celebrated my 18th birthday more than twelve years ago, I have three wishes and it all came true. That makes it super memorable for me. So what are my three birthday wishes? First, I wish that may I and my siblings finish all our studies. Secondly, I wish for the good health of my family and peace. Lastly, I wish to meet my soul mate. My three wishes came true and surprisingly, after that wish I met my soul mate, my first boyfriend who is now my husband.
Happy Birthday Mommy Jes!

Click the banner below to join.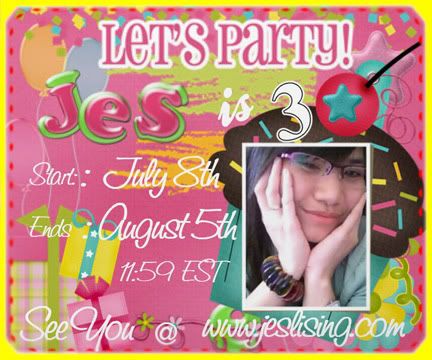 The sponsors
*Occasions of Joy*New Home Sweet Home*My Little Angels in America*Kitchen Explorers*Mamee and Me Fashion*The Wonderlusts*Hobby Lovey*
*Flakes and Nuts*Pink Memoirs*Life According To Me* Corsame Lane*Delight my Appetite*I Love Darly*Kerslyn's Comfort Zone*Random Thoughts**Treasure Box*Zowanderer*
* Rabago Family Escapade*Pink Fortune*
* Little Yzzy*Kizuna*Nshima Servings*One Proud Momma*My So-Called Life*Little Zoie's Steps*From Asia and Beyond*My Oweinilife*A Heart Full of Love*Written by Mys* Buzz Online*A Wife's Dream Nest*One Proud Mommy*Sitback and Relax*Certified Photo Addict*Loose It Up*
My So-Called World*Levyousa*Pensive Thoughts*Home Buddies* I Love Hues*The Life Encounters*Music, Movies, Stars Etc.*Jared's Little Corner*Mum Writes*Oh Gosh Gulay*Filipina Blogger*Mom Writes*Kitchen*The Tottering Mama*